From this year on, 25 July marks the new UN-recognised "World Drowning Prevention Day". This global advocacy event serves as an opportunity to highlight the tragic and profound impact of drowning on families and communities and offer life-saving solutions to prevent it.
On World Drowning Prevention Day 2021, the World Health Organization launched its guideline on the provision of day-care and basic swimming and water safety skills training to prevent drowning. Cochrane First Aid and its initiator the Centre for Evidence-Based Practice feel proud to have developed 2 systematic reviews to inform this guideline.


Cochrane review on day care provision
As mentioned in a previous news item, the Cochrane review on the effectiveness of organized day care on reducing drowning accident rates in children under 6 years of age in low- and middle-income countries was published in The Cochrane Library last April.
Since then, Cochrane First Aid and the Cochrane Public Health Group have joined forces to ensure a successful dissemination of the review's findings. We proudly present our: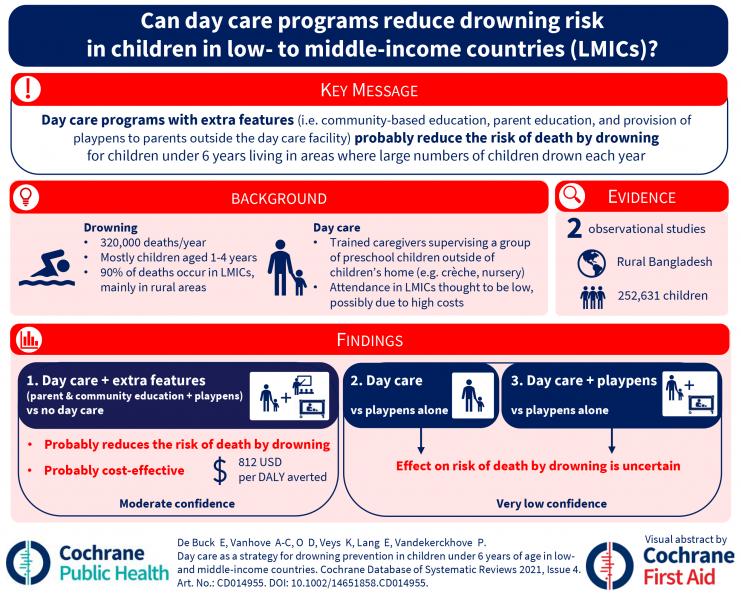 WHO guideline recommendation on day care provision
Based on the review's findings and the overall balance between the desirable and undesirable effects of day care provision, the WHO guideline recommends day care for children under 6 years of age as a drowning prevention strategy in countries with a high burden of drowning (strong recommendation; moderate-certainty evidence).
These day care programs must be developed and regulated with a main focus on quality (e.g. safety and well-being of children, involving parents, addressing nutritional needs) and other aspects (e.g. equitable staff treatment, open during periods of high drowning risk for drowning, measures to minimize the risk of spread of infectious diseases). For more information, consult the full guideline.